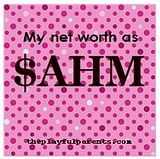 The inspiration, or rather impetus, for this particular blog linky 'My Net Worth as SAHM', came from a not-so-pretty place. A place of indignation, frustration, and perhaps, rage.
The seed for this celebration of Motherhood in the Home was a thorny one sown into my heart last December. Outrage would be quite apt in describing my reaction to a suggestion by a female high-ranking Singapore Minister that more ought to be done to encourage women to get back into the workforce, and the suggestion for schools to stay open till 7 pm so more could do so.  More than outraged, I was disturbed that a fellow mother would be making such suggestions that seemed to treat children as entities rather than individuals that can be easily managed through 'proper' channels', and the idea that parenthood is merely just an economic endeavor.
Then, just this month in the hot debates over the White Paper on Population 2030, another female Minister, who is a young mother of 3, including a 3-month-old baby, made another comment that women who stay home to look after the elderly and children represent a significant labour pool that needs to be tapped to aid our flailing economy.
Her words, verbatim : We have also the homemakers who take care of the elderly and the young children at home. How do we attract them back into the workforce?
Now, these comments by our female MPs, who are mothers themselves, really made me wonder about a few things:
How does our society really value family?
How does our society think of parenting, and children?
Does being a parent mean earning enough to keep our children well-fed, well-clothed and access to education?
What about filling their emotional and spiritual tanks?
And what really got my goat was, and is still, these:
The mention of SAHMs within the context of the pressing need of addressing labour crunch and increasing GDP.
Seriously, MUST EVERYTHING WE DO be measured in terms of:
economic value
productivity
GDP
Now, I am NO political activist and have NO wish to spark off or engage in any form of policy debate (even though I have more than a few issues with the White Paper on Population).
However, I have a burning desire to speak up for the children, other stay-home mothers and all other women who may be deliberating the decisions of either having a child or staying home for their children.
I believe that Motherhood is MORE than just about popping out babies for our country, and then working to pay for someone else to have the responsibility and privilege of raising our children.
Please do NOT get me wrong. This is also NOT about how all of us women ought to be SAHMs or that SAHMs are better moms than Working Moms.
It is NONE of that.
This is simply a platform I hope to create for all Moms who have chosen Domestic over Corporate life to share what their lives are really about.
Because I believe there is so much misunderstanding about what moms who stay home really do.
Because I believe that we CANNOT qualify the importance and worth of every endeavor using money.
Because I believe being a mother is MORE than just providing for our children's physical and intellectual well-being. Because I believe that when our economy and society learns to respect and value the place of family, the quality of work and life will improve immeasurably.
Please link up and share YOUR story if:
You're a woman who's been greatly touched by the presence of a SAHM
You're a woman who's chosen to trade your career and financial independence to be a SAHM
You're a woman who's found the balance between being home for the family and your personal ambitions e.g. WAHM
You're someone who believes in the value of having a mom at home
Just click on the badge below to link up to your Net Worth As $AHM story!